New Castle Junction Station Mystery
Help Solve a Missing Station Mystery
Two P&LE Train Stations are missing their Sister!
LEFT Coraopolis Station and RIGHT Glassport Station
First the Facts, and only the facts
Missing Station Features:
Location: New Castle Junction
Architects: Shepley Rutan & Coolidge
Architectural Style: Richardsonian Romanesque Revival
Date of Completion: Between January and March 1895
Price: $8,135 (mid-priced between Glassport ($5,268) and Coraopolis ($12,500)
P&LE Railroad Passenger Station at time of construction (1895)
EVIDENCE STRAIGHT FROM THE HORSE'S MOUTH:
Architectural FEatures of Richardsonian Romanesque REvival that we would LIKELY see FEATURED in a sister station: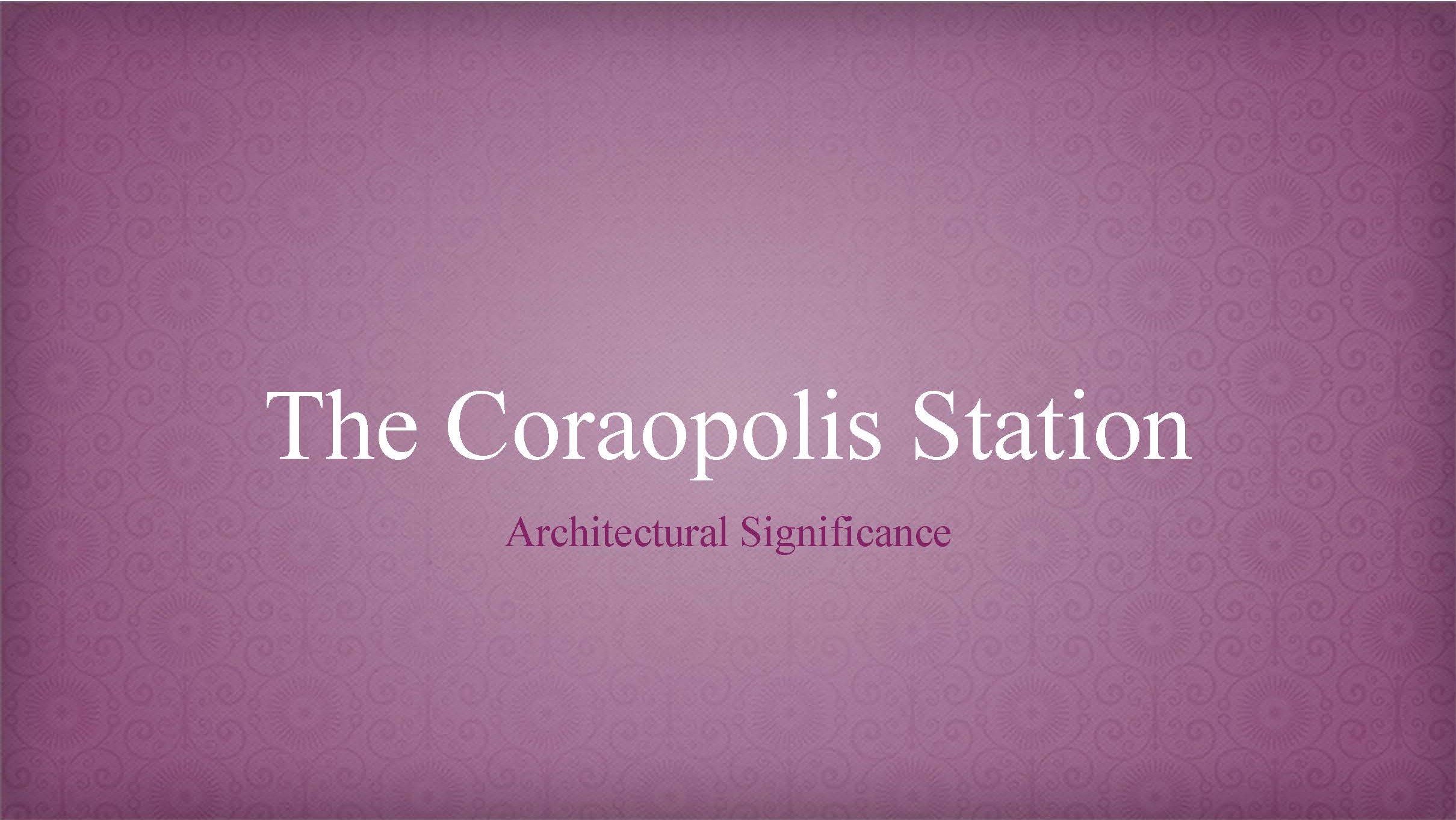 ARCHITECTURAL FEATURES WE ARE LOOKING FOR, IN SHORT:
Note: We are not looking for a station with ALL of these features. These are features which can be identified in varying degrees in the sister stations, so the more of these architectural features we find, the more likely it is that we have a match.
Roof

Broad, low, and sprung
Hipped/Double-Sloped
Slate with red cap tiles forming ridge
Eyelid Dormer

Overhang supported by brackets which rest on corbels
Optional Asymetrical Features, which are arranged to counterbalance each other

Bumped-out Observation Bay or Lantern Tower with pyramidal, hipped roof
Ornamental Parapet Gables
Oversized Arched Doorway

Windows

sharply-incised square windows with half-moon transom windows
rounded arches with stone voissoirs
rhythmic horizontal bands of fenestration, arranged in ribbon-link rows
stone contrasting stringcourse linking ribbon-fenestrated windows

Polychromatic Masonry with nontraditional sizes

use of varied/contrasting masonry materials within same building
use of roman bricks
use of mortar in colors which contrast against brick/stonework
large sandstone water table
RESEARCH: Let's START WITH MAPS
First, it's important to establish the geography, because this is a complicated area. We have multiple railroads converging, and separate junctions. We have to visually establish a distinctions between New Castle Junction and the nearby Mahoningtown and Lawrence Junction. It's also important to understand compass directions, as they relate to the river. New Castle Junction is located on the East bank of the Shenango River, not the West bank. Here are the two maps that I've relied upon most heavily in my search:
Discussion/findings
First, the websites I'm relying on:
The incomparable Dan West's Pennsylvania Railroad's Past & Present, specifically his page itemizing stations in Lawrence County, which is where I located the first map, above.
The absolute fantastic Lawrence County Memories by Jeff Bales, Jr., which is where the second map (above) was taken. The index to all of his subpages which I rely on can be found here.
The University of Pittsburgh digital library, specifically the collection of photos they have digitized from the Pittsburgh & Lake Erie Railroad collection. The entire collection is searchable at this link.
The Sanborn Map for New Castle from 1920, which can be found at the Penn State University Library at this link.
elimination round:
These are the stations I've located and eliminated, and the reasons I've crossed them off my list.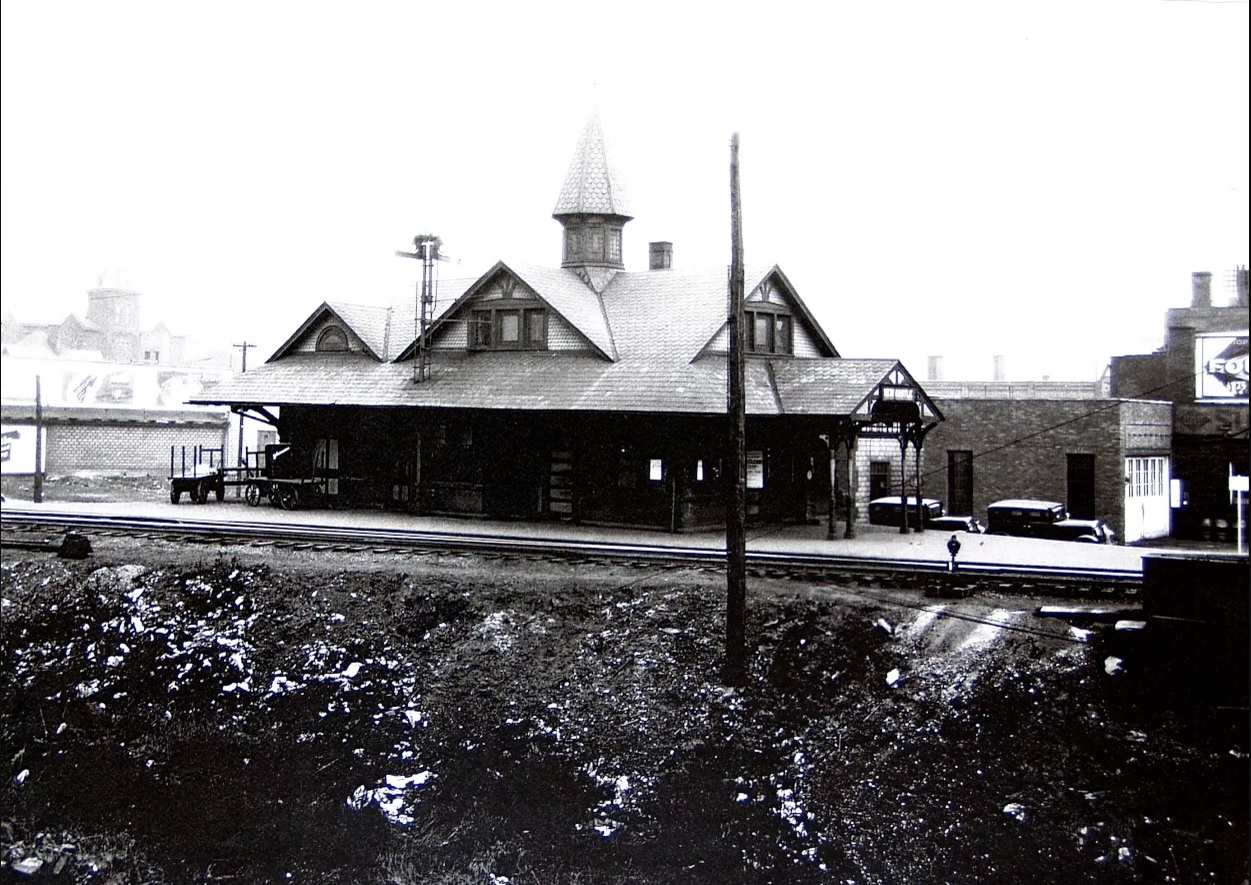 138 West Washington Station
This is a breathtaking wooden station, which still stands today in beautiful condition. In terms of a match, the architecture is problematic: it is a wooden structure that shares few similarities with the Glassport/Coraopolis stations. Also, it only later became a P&LE station after the demise of the union station. When it was built, it was Erie Railroad. The build date predates the 1890s and was likely built in 1887 when the New Castle & Shenango Valley RR (later Erie RR) was put through.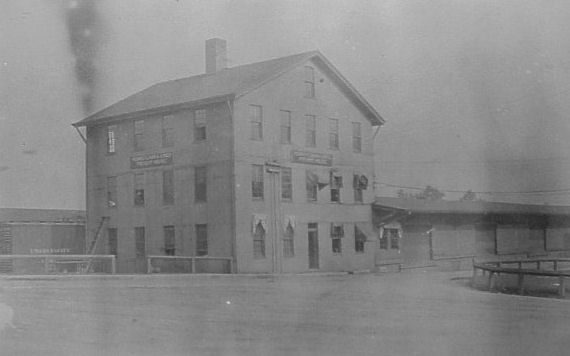 Pennsylvania RR Passenger Station & Freight House
This was located on the south side of West Washington Street between South Front Street and the river. Problems: Wrong railroad. ENORMOUS - there's no way a building of this size would be in financial scope of the price. No common architectural features. Wood structure.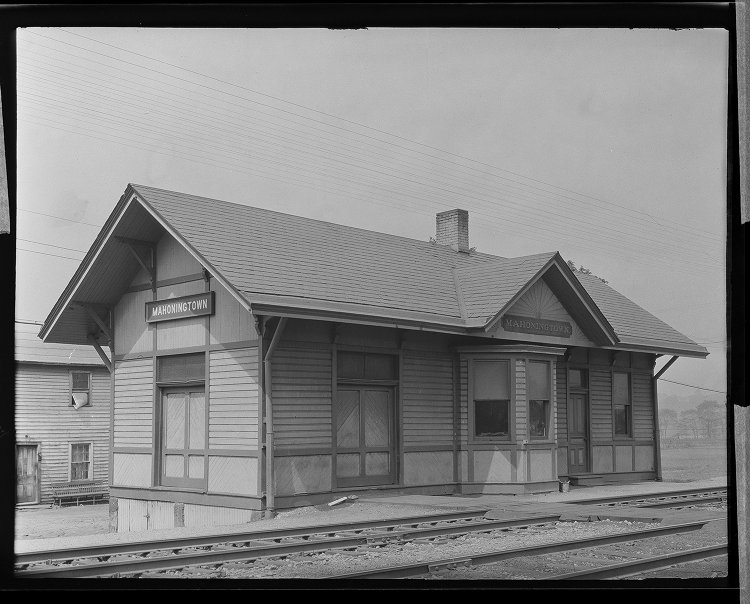 Original P&LE Mahoningtown Station
Located on the north side of Lacock St near Ashland Ave on the SW side of the tracks. Torn down March 1970. Problems: Wrong location. Wooden station. No common architectural features.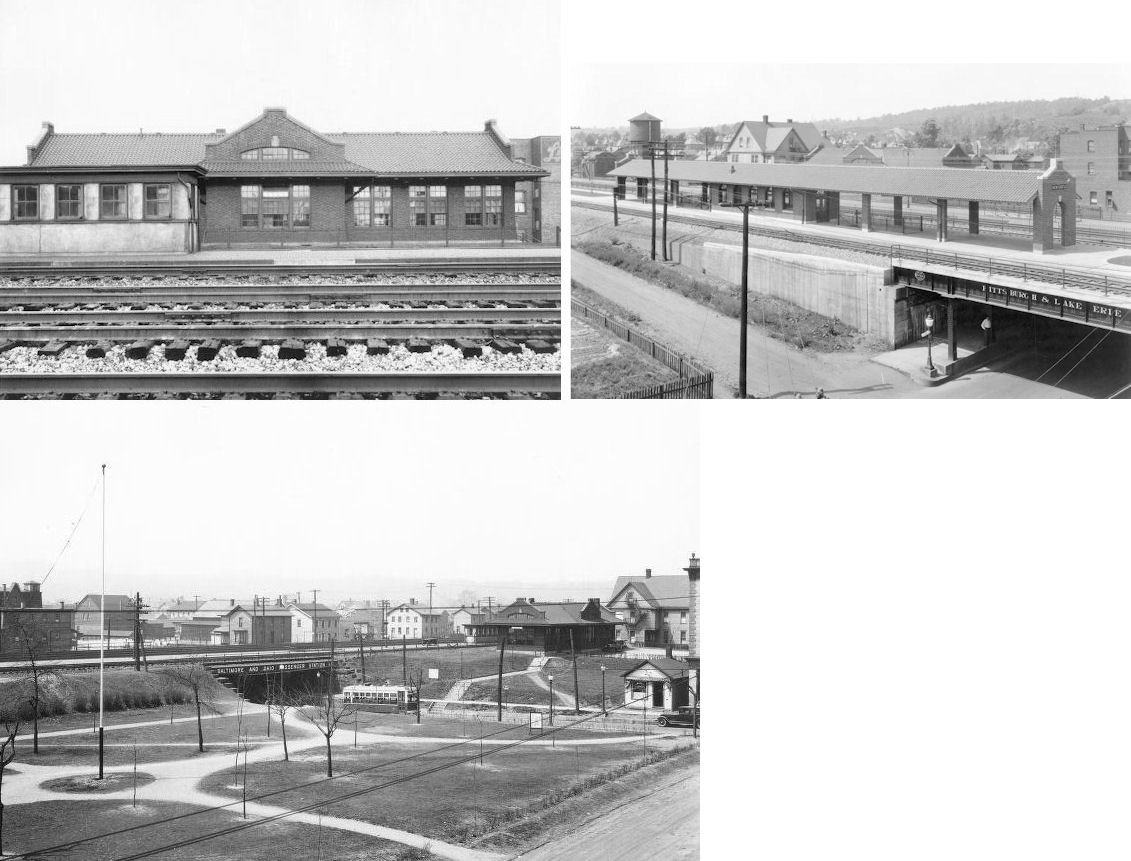 Mahoningtown P&LE Passenger Station & Platform
Located at NW side of Liberty Street on the NE side of the tracks. Problems: this was opened in the 1900s. (The newspapers indicate June 1, 1917, but Pitt has a photo of this station dated 1904.) Regardless, this is in the wrong location, and, while it does have a few architectural features, taken together this does not share very much in common with our stations. Also, this is a much larger brick structure and would have clearly exceeded the price of either Coraopolis or Glassport.
Located at 334 E Washington. A good size, correct materials, some great architectural commonalities (though not solidly matching). Problems: this was always only a Pennsylvania Railroad Station. At the time it was built, it was definitely NOT P&LE. Also, it was constructed in 1914, well outside of our timeframe.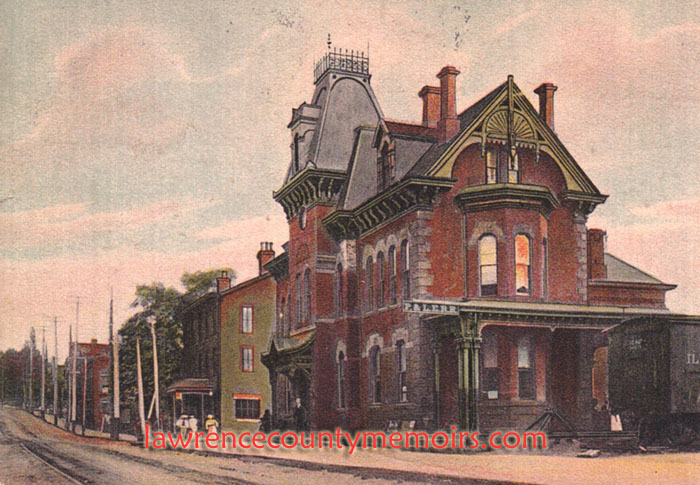 It is well documented that this station was in use 1882-1910. 'nuff said.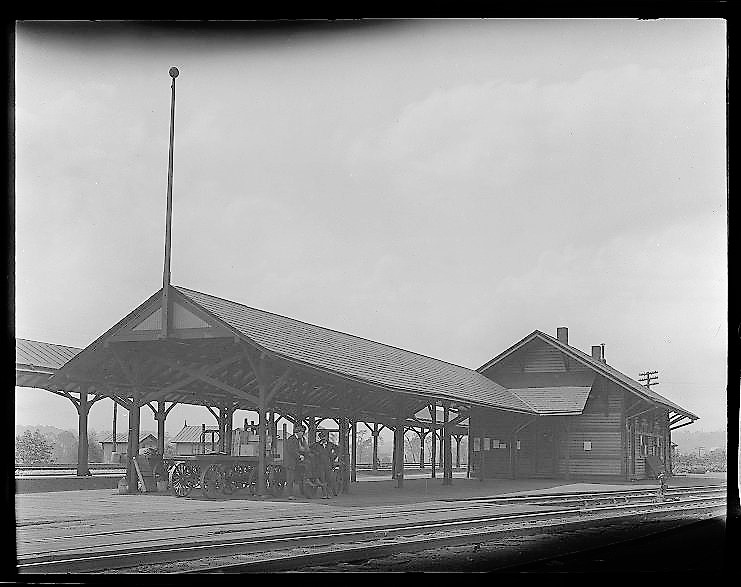 Wooden station of P&LE Passenger Station from New Castle Junction taken June 7, 1917. I used my photo editor to lighten this, so we can see the station better. Problems: I ruled this out primarily because it's clearly a wooden station. But also, there's really no distinctive architectural features.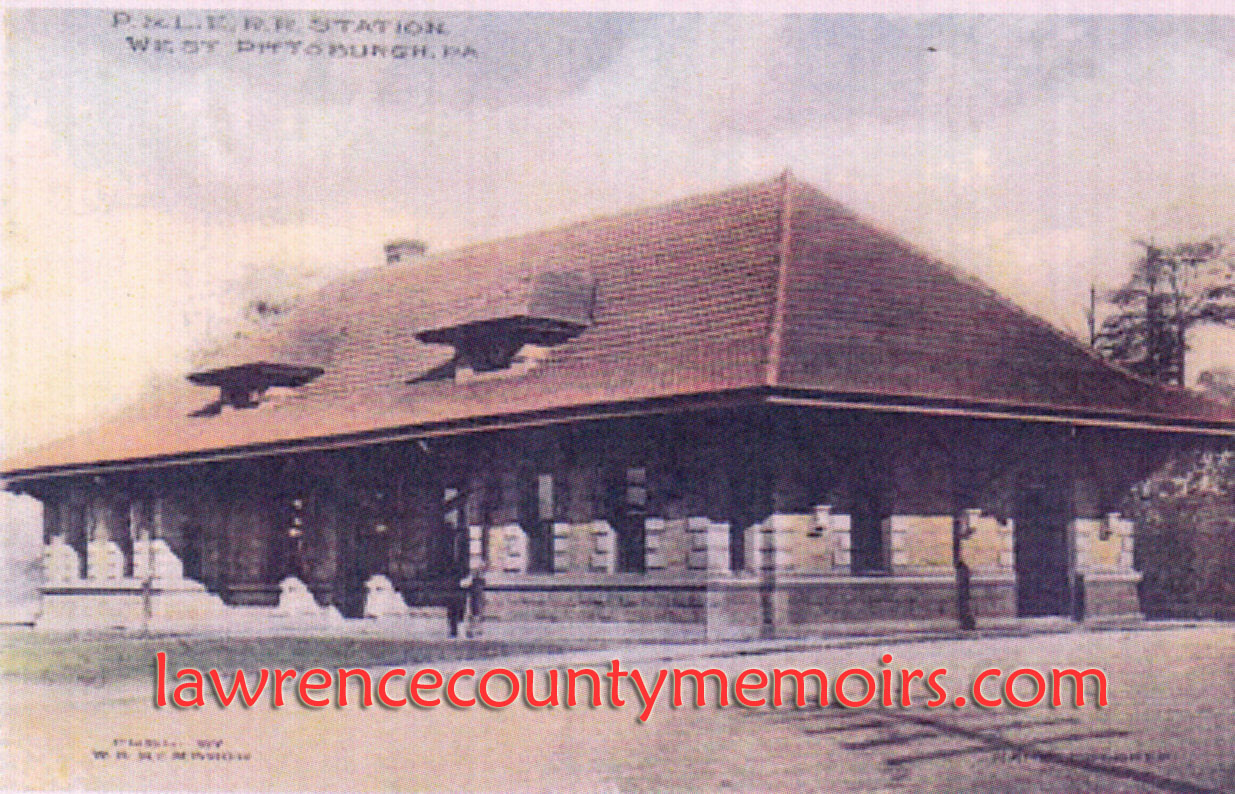 I included this in the mix initially because it is quite close to New Castle Junction, but also, there are many architectural commonalities with Coraopolis and Glassport. Also, this station ended up with the Coraopolis station sign in its artifact collection. Problems: Obviously, it's not technically New Castle Junction. The primary nail in the coffin for this option was the build date: newspapers confirm this was built in 1908.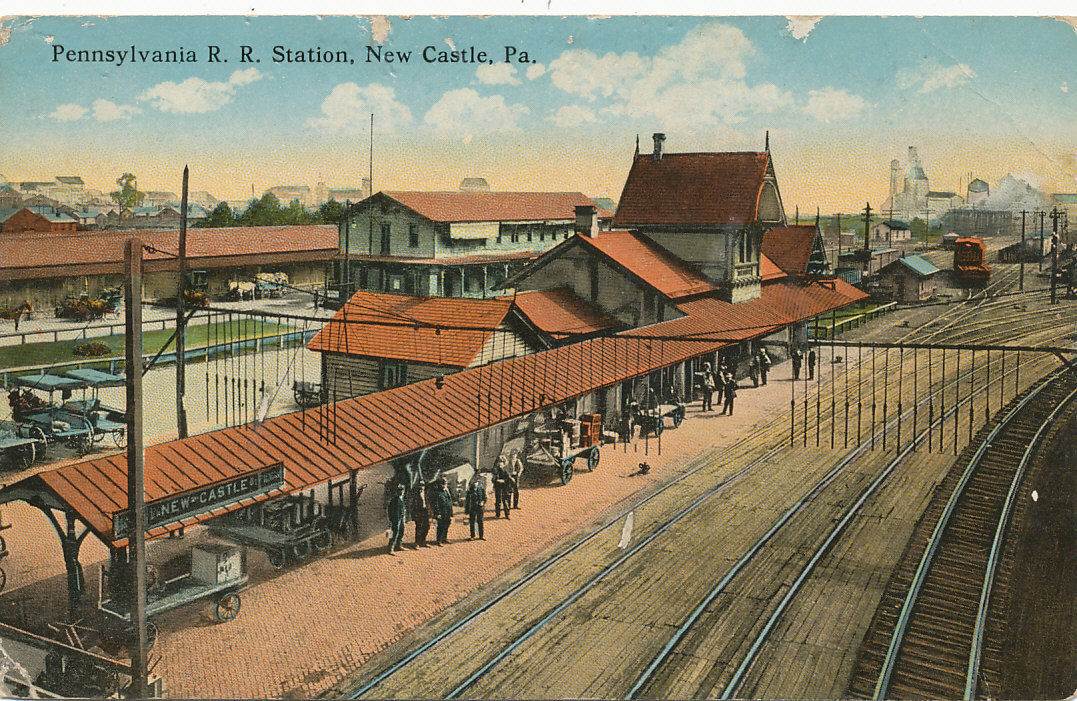 PRR Lawrence Junction Station
Located on the south side of West Washington Street between South Front Street and the river. Built in 1878 and torn down in 1962. Problems: Wrong Railroad. Wrong location. Wrong build date. No architectural commonalities.
REmaining (KNOWN) candidates
This leaves me with two stations. (I am excluding roundhouses entirely because, obvs., I'm not looking for a roundhouse.) If there are any additional candidates that should be considered (if I am missing any area stations), please let me know!!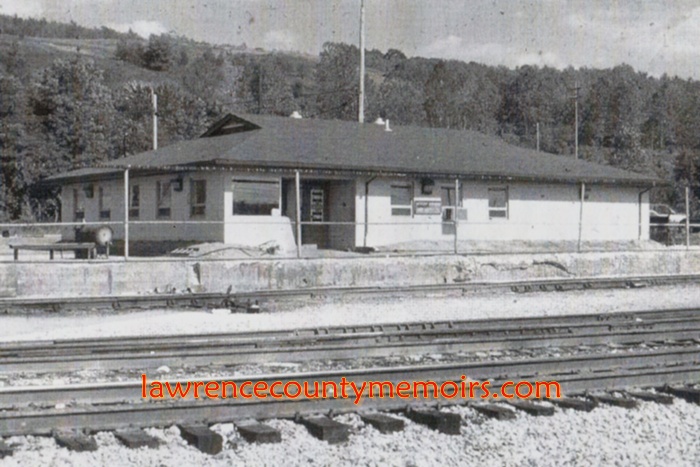 New Castle Junction B&O Yard Office
This photo was taken in 1998. This is the only information I have on this. Is it still standing? What was it before it was the B&O Yard office? MY THOUGHTS: The roof is PERFECT. There is an eye window. The door opening is off-center. It's a good "middle" spot between the Glassport and Cory stations, in terms of imagining that the financial cost would fit somewhere more than Glassport but less than Coraopolis, since it's bigger than Glassport, but less elaborate than Cory. I note that the B&O and P&LE tracks in New Castle Junction were one and the same, and they shared stations as well, so the B&O label is actually a good sign. On the downside, it's VERY simplistic. There's not as many windows as I would expect. But we only have one perspective on this photo - we don't know what the building looks like from other directions.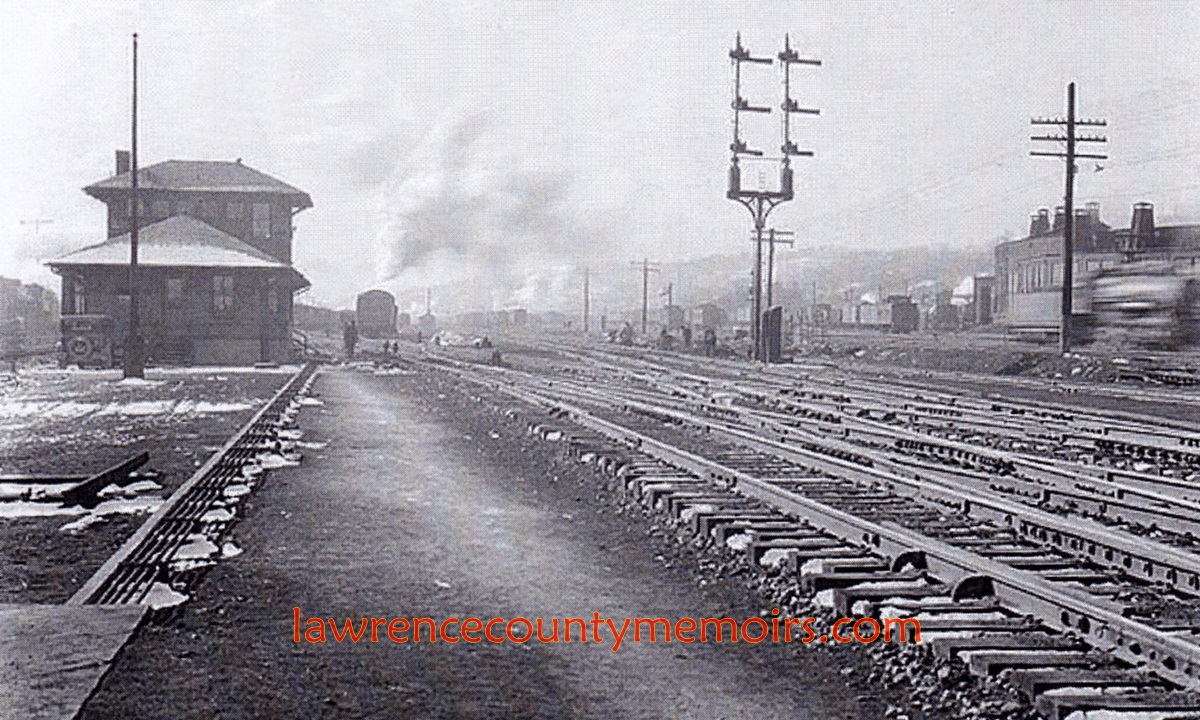 P&LE and B&O New Castle Junction Station, 1895-1998
Station built between the P&LE and B&O mains. It was used for a Yard office for the small P&LE Yard. It was built in 1895 and demolished in 1998. MY THOUGHTS: You really need to see Dan's photos of this station on his site to appreciate this (click here for a direct link), but I am seeing a LOT of architectural commonalities: I feel like the stringcourse connecting the windows which contrasts to the pale-colored water table is just a slam dunk here. And the build date is SPOT ON. The roof is perfect - even with the ridge detail. The brackets holding up the overhang are perfect. We have the correct railroad. I wish I had a better view of the two story portion in the center - that concerns me a little, particularly as it would affect the cost. I feel as though this station would be more competitive with the cost of the Coraopolis station than I would have expected to see. Which makes me wonder if that center 'tower' was added later? Would love more documentation or pictures on this station!